Bulletin Board
Village Hall
999 Fond du Lac St
Mt. Calvary, WI 53057
Office Hours
Contact the Clerk
for an Appointment
Board Meetings
2nd Monday - 6:30PM
Recycling / Garbage / Compost
The village provides its residents with a compost site to help dispose of yard waste. This site is for Village of Mt. Calvary Residents ONLY.
Items allowed at the compost site. Put on the appropriate pile:
Pile 1:
Grass Clippings
Leaves
Pile 2:
Brush & Small Branches
Garden Waste
Flower/Plant Clippings
Items not allowed at the compost site:
Tree Limbs
Stumps
Chunks of Wood
Lumber
Stones
Garbage or Rubbish
Violators will be held responsible for any fees incurred with the clean-up of these items.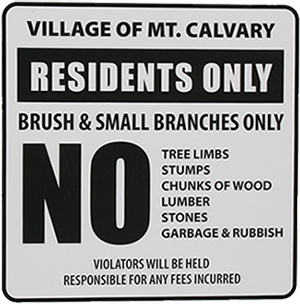 The compost site is located at the Mt. Calvary Waste Water Treatment Plant site at 910 Basswood Road.
Recycling & Garbage
EFFECTIVE JANUARY 1, 2023 HARTER'S LAKESIDE DISPOSAL WILL BE THE
VILLAGE OF MT. CALVARY'S GARBAGE/RECYCLING PROVIDER.
Harter's Lakeside provides both garbage and recycling containers to all village residents.
Pick-up day is Monday, with garbage pick-up every week and recycling pick-up every other week. Please have your garbage and recyclable containers curbside prior to 6:00 am.
To see the calendar or pick up dates and the list of recycling do's and don'ts, click here.
If you have an issue with garbage or recycling pick-up, please call Harter's Lakeside at 833-754-2158. If you have any further questions, please call the Village office at 920-753-2230.
All trash needs to fit in the provided refuse container and all recycling can be commingled and needs to fit in the provided recycling container. Overflowing containers, garbage or recycling in containers other than those provided by Advanced Disposal, and garbage outside the containers will not be picked up.
Garbage & Recycling Guidelines
GARBAGE - All garbage must be placed in the cart(s) with a gray lid and must be placed for pickup on Mondays by 7:00 a.m. While bagging your garbage is not required, we recommend you continue to do so to avoid smelly messes in the carts. If you are moving, you need to use a dumpster.
- Your cart should be within 18 inches of the curb with the arrows on the lid pointing to the street/curb. Carts cannot be placed on the street. If there is snow, please clear an area in the terrace, or leave the carts at the end of your driveway.
- To avoid damage to property, place the cart at least 3 feet away from mailboxes, lampposts and other fixed objects.
- Place your cart on as level a surface as possible, but away from low hanging tree branches.
- Place carts at least 3 feet away from each other.
- Close lids prior to pick-up. Lids should be closed on the carts for driver identification and in order to stop material from spilling or blowing away.
- Carts not properly placed will be tagged and not picked up.
RECYCLABLES - All recyclables must be placed in the cart(s) with the blue lid. Items should be rinsed clean.
For list of acceptable and unacceptable recycling items, see the recycling guidelines attached.
HEAVY REFUSE COLLECTION - Large Items: break items down to fit in gray cart. For items that don't fit in the cart, call Harter's Lakeside to arrange for pickup and cost of disposal. Stoves, washers, dryers, water heaters, car parts, bath tubs: call Harter's Lakeside to arrange for pick up.
CONSTRUCTION MATERIALS - Small amounts of construction materials may be placed in the gray cart. If you have a large amount of materials, arrange for a dumpster. Contractors are not allowed to put waste by the curb.